I was looking for a way to brighten up my door and entry way area so I went looking for wreaths on Amazon. I wanted to go with a simple yet classy look, fresh and vibrant colors. I also wanted to purchase something I can use all year round, not specific to one season. I found the perfect priced and perfect looking product!
This Abloomtouch Wreath is a great alternative to the highly priced options on Amazon (some wreaths go for as much $70!) I also loved that this was a simple and clean design as opposed to the abundantly flower options available.
What I really liked about this product is that it requires no maintenance, unlike some fresh flower/plant wreaths. Hang it and forget about it!
I haven't taken a photo of it on my door/entry way yet but I will update the post as soon as I do. Here is a picture of the wreath from the seller: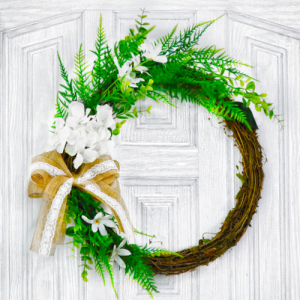 Here is the link to the product if you would like to purchase
Some specs on the product:
– overall diameter is 16,5 in
– inner diameter is 10-11 in
-has hanger at backside to help you hanging
-designed on strong real plant wood frame
– contains UV protection; it prevents from fading and it keeps great looking year after year.